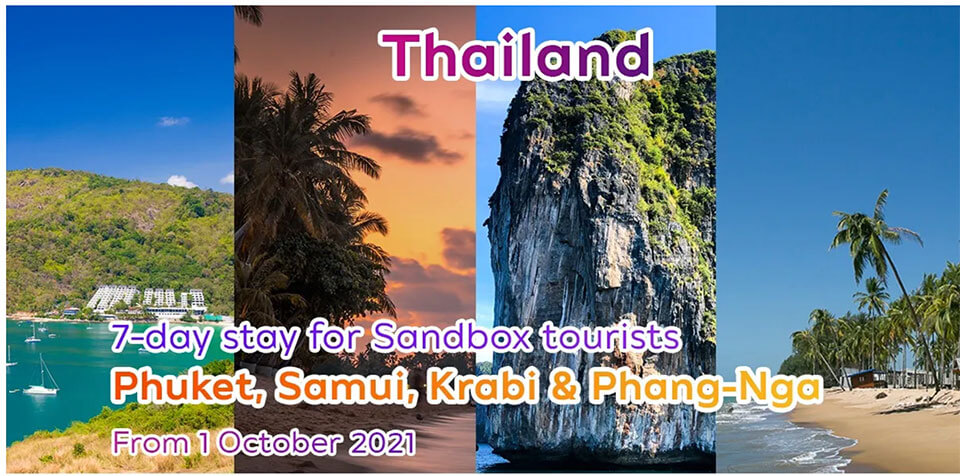 Sandbox Program Open to All Countries
The Tourism Authority of Thailand recently announced that now fully vaccinated tourists and returning residents from all over the world are welcome to visit Phuket, Surat, Thani, Krabi, and Phang-Nga through the sandbox programs by staying in the sandbox hotels for only seven days. Then they can move to other parts of Thailand. 
The Sandbox Program is now allowing every fully vaccinated traveler from all the countries around the globe. They can now book holidays in Phuket or other nearby provinces. Many people from all over the world can benefit from this change, such as how Indonesians and Malaysians, along with many others who were previously excluded, can now travel to the southern resort island and its neighbors. Being one of the biggest sources of tourists before the pandemic, Malaysia had more than four million tourist arrivals in 2019. 
The Tourism Authority of Thailand made an announcement on Friday that they are expanding to bringing back tourists under the new regulations of sandbox stay, i.e., only seven-day quarantine, approved by the Royal Thai Government. As of October 1, 2021, Thailand will welcome travelers, including the pilot reopening destinations. 
The set of regulations said that they are eliminating the list of eligible countries that had around 78 countries that were allowed to visit Thailand during the COVID-19. Now, Thailand is welcoming people from any part of the world to the Sandbox program. 
However, note that this reduced stay only applies to those who visit through the sandbox scheme. The areas where this is applicable are Phuket, Surat Thani (Ko Samui, Ko Pha-ngan, and Ko Tao), Phang-Nga (Khao Lak and Ko Yao), and Krabi (Ko Phi Phi, Ko Ngai, and Railay Beach). This indicated that the fully vaccinated tourists are now allowed to travel straight to their designated areas of Phang-Nga and Krabi when they land in Phuket. They can stay there for seven days in accredited SHA+ Sandbox Hotels. 
Moreover, Tanee Sangrat, the Foreign Ministry Spokesman, said that unvaccinated children are also eligible to visit as long as their parents are fully vaccinated. 
The Phuket Sandbox program began on July 1, 2021. Ever since its introduction, it has attracted over 38,000 visitors to Phuket, and according to the authorities, it has likewise generated a whopping 2.3 billion baht in revenue. 
The tourism operators are still a little gloomy about the idea of a meaningful revival of the economy in Phuket as 90% of hotels were shuttered. There have been recent requests by the hotel owners to simplify the process of entry in hotels by reducing the cost of Covid testing, so this can likewise increase the number of visitors. 
Quarantine Reduced to 7 Nights
For the fully vaccinated travelers who are unable to travel directly to Phuket may arrive in Bangkok and undergo the mandatory quarantine. The quarantine period required for fully vaccinated travelers has been reduced to 7 nights. For unvaccinated travelers who are arriving in Phuket or Bangkok are required to undergo a mandatory 10-night quarantine in an accredited quarantine hotel or AQ. 
The reopening of the Sandbox Program to all countries and reducing the sandbox stay and quarantine stay for vaccinated travelers are parts of Phase One of Thailand's Reopening Plan. In the second step, in November, the government will open up more destinations for tourists. They begin with Bangkok, Chon Buri, Prachuap Khiri Khan, Chiang Mai, and Phetchaburi as additional Sandbox programs.
Even though Thailand is now open for travelers, tourists, and returning residents alike, you are still required to obtain a COE or Certificate of Entry before traveling to Thailand.  All travelers to Thailand are required to purchase COVID insurance covering the duration of their stay and must book hotels under the SHA+ Sandbox hotel scheme or Alternative Quarantine (AQ) scheme.  The application for the COE is free of charge, but for some, it may be confusing at times or finding the correct insurance and booking the sandbox or quarantine hotel seem time-consuming, so we have listed the recommended hotels, insurance, and even COE application assistance for your convenience. Please check the links below:


Flights to Thailand