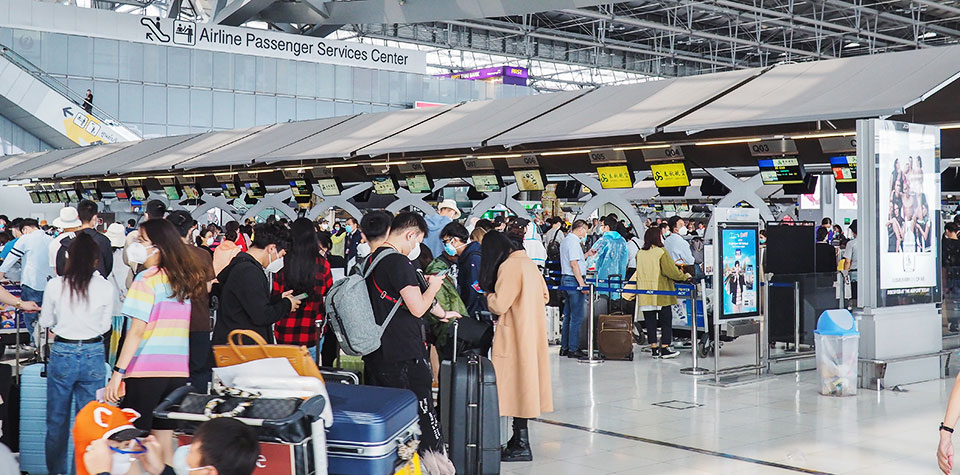 Homesick? It would be great to see familiar places, people and eat home-cooked meals, right? Home, that is where you can find them. A place where your family and childhood friends can be found. A place where you belong. Wouldn't it be great to go back home already?
Are you a Thai national ready to go back home from a foreign country despite this COVID-19 situation? If you are, this is how you can do that.
Steps to Come Back Home to Thailand
If you are a Thai citizen from a foreign country wanting to go back home to Thailand, know that no one can stop you from going home, there would be no problem for Thai nationals to go home to Thailand. A Thai national has the right to come back home to their country of origin.
With that in mind, here is the step for you to be able to come back home:
1. Choose an Option to Stay
All Thai nationals are required to stay at a secured location when arriving in Thailand, not just Thai nationals but all travelers entering Thailand. There is no exception for Thai nationals in this imposed rule by the Royal Thai government.
There are 2 options that Thai nationals can choose to stay:
This option is available for fully vaccinated Thai nationals and foreign travelers who are traveling by air and have stayed at least 21 days in any of the low-risk countries enumerated by the Thai government.
You need to stay at least 1 day in a hotel at your own expense to wait for your COVID-19 test result. If you are tested negative, you are allowed to freely travel anywhere in Thailand.
This option is available only for fully vaccinated Thai nationals. They will stay in a hotel but they are granted permission to roam around outside the hotel premises but inside the location of the Sandbox program.
There are options of Sandbox programs that Thai nationals can choose from:
2. Book a Flight
For you to be able to enter Thailand and come back home you do not have to wait for repatriation flights. Thailand announced that a Thai national can go home and by booking their own flight to come home.
Where are you located right now? Well, wherever you are, it is safe to say that there are airlines that have available international flights to Thailand.
Like Qatar Airways, they will surely get you home safe to your family. Book now!
Other airlines that are operating and have international flights to Thailand:
Eva Air
Emirates
Swiss Air
Lufthansa
Thai Airways
Cathay Pacific
Etihad Airways
Austrian Airlines
Singapore Airlines
KLM Royal Dutch Airline
Note: If you are a Thai national traveling to Phuket or Sandbox locations, please make sure that you have booked a flight with no transit flight to Bangkok. Also, make sure to follow and practice safety measures instructed by the airlines.
3. Book a Hotel
To be able to enter Thailand, you will need to book a hotel.
In the 1st step, you have been given an option on where to stay. The type of hotel that you will stay in will depend on which you prefer.
Upon arrival at the airport, you will receive an RT-PCR test. You will be moved to your booked Test and Go hotel and will wait there to get your test result for at least 1 night.
If you have chosen to stay through the hotel quarantine program, you will have to book ASQ hotels.
Upon arrival, you will be tested for your 1st RT-PCR test. After your 1st RT-PCR is conducted at the airport, you will be transferred to this type of hotel and will stay according to your required days of stay.
If you have chosen to stay through the Sandbox program, you will have to book SHA+ hotels.
Upon arrival, you will also be tested for your 1st RT-PCR test and you will be transferred to this type of hotel but as soon as you get your result within 24 hours and turns out, the result is negative, you will be able to go outside the hotel and do whatever activity you plan to do.
To book hotels, book at Agoda.
4. Obtain a Thailand Pass for Thai Nationals
All travelers entering Thailand, including Thai nationals, will require a Thailand Pass QR code. To apply for Thailand Pass, follow the instructions below:
Apply here for Thailand Pass
Choose among the 3 options
Please fill in with your personal details and necessary information.
Upload the required documents asked in the registration.
Submit and wait for 1 to 3 working days. You will receive your QR code via email.
Application for the Thailand Pass is free-of-charge and you can apply for it by yourself. However, you can opt to choose a paid service provider such as a law firm to provide consultation, assist you in preparing your documents, and submit them on your behalf. There are known problems encountered during the application such as documents that aren't accepted by the system upon uploading or some information or documents that are rejected by the Thai embassy or consulate. Thus, these causes some delays especially when your travel date is fast approaching. Siam Legal offers a paid service, the Thailand Pass Support.
5. Obtain COVID-19 Negative COVID-19 Result
Even though the Thai authorities do not require Thai nationals for a medical certificate detailing that you are tested negative for COVID-19. There is still a possibility that airlines that have an international flight to Thailand will require an RT-PCR test result proving that you are tested negative for COVID-19.
The COVID-19 test result shall be issued no longer than 72 hours before departure.
6. Prepare all the Required Documents
Now that you have successfully obtained the entry requirements, you will have to prepare and organize them. This will help you have easy access once it will be checked by staff before departure and upon arrival.
As a Thai national returning to Thailand, here are the required documents you will need to prepare:
Thai Passport
Confirmed booked hotel
Confirmed booked flight
RT-PCR test result issued at least 72 hours before departure
Certificate of Vaccination
Downloaded ThailandPlus Application
For inquiries about entering Thailand, you can contact the Royal Thai Embassy or Consulates near you or visit their official website for more information.