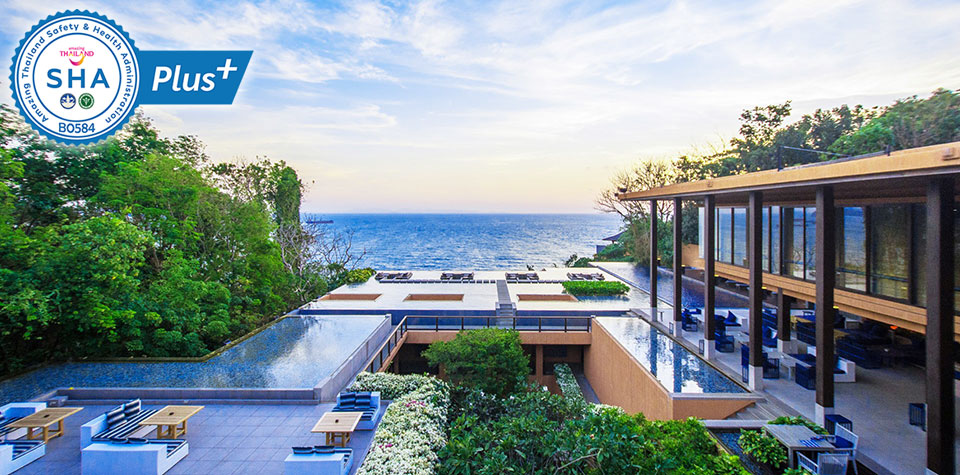 With the continuing surge of fully vaccinated travelers entering the gates of Phuket, through the Phuket Sandbox Program, it is only fair to accompany them with establishments that ensure safety and care upon entering. And with that, they are required to stay at hotels that hold an Amazing Thailand Safety and Health Administration Plus Certificate or more known as SHA+.
The inbound travelers all around the world that enters Phuket are for sure those who want to relax, rejuvenate, have a vacation, and come home to their homeland without the long quarantine period. To be able for them to stay without quarantine, one must look for Phuket Sandbox hotels with SHA+ Certification.
With vs Without SHA+ Certification
What is the difference between normal hotels and hotels that have SHA+ certifications? Hotels that hold SHA+ certifications are strict to applying safety measures for their own establishments, their staff, and for the travelers that visit Phuket. Hotels with SHA+ certifications have at least 70% of their staff vaccinated against Covid-19.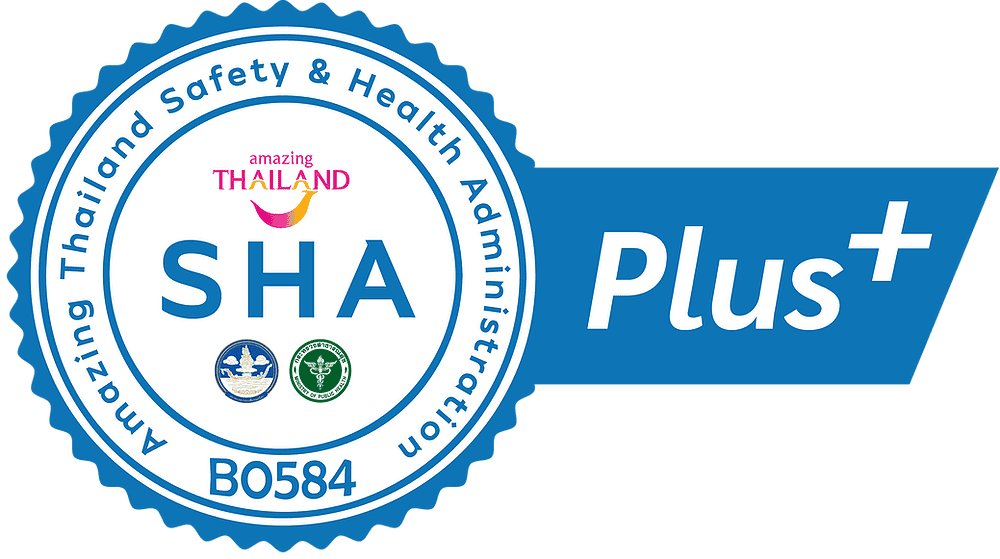 As can be seen in the photo above, the "SHA" logo verifies that public health precautions for COVID-19 are in place at venues and businesses, while the "Plus" symbol (+) verifies that more than 70% of staff have been completely vaccinated.
There are already 1,389 venues and businesses covering Phuket that received the SHA+ certificate. This number consists of 882 establishments in the category of hotel, accommodation, and homestay. There are 157 SHA+ certified in the travel category and the remaining 181 are the other categories.
To those establishments that already have 70% of their staff vaccinated, they are encouraged to register for a SHA+ certificate at the "Phuket Must Win" website. The website makes use of digital technology to create a smart data system that can track each venue's and business' vaccination records. It can analyze a vast quantity of cumulative data and determine which establishments have at least 70% of their employees vaccinated and are eligible for the SHA+.
Booking Phuket Hotels with SHA+
You must specify that this is a Phuket Sandbox booking when making a SHA+ hotel reservation. The hotel will need to register you with the SHA+ Booking Authenticator (SHABA) system. It will be used as a confirmation mechanism for visitors joining the Phuket Sandbox who have booked hotels that have SHA+ certificates and creates a unique QR code. To enter Thailand, you will need this QR code.
Aside from the need to book to SHA+ hotel, here are other documents to bring in order to enter Thailand:
Medical Certificate confirming a negative COVID-19 test no more than 72 hours before their flight
Evidence of Payment for accommodation and Covid-19 testing, and;
Certificates showing full-dose of Covid-19 Vaccination at least 14 days previously
High-End Hotels with SHA+ Certification
There are a lot of reasons why travelers choose to fly to Phuket. To relax, to rejuvenate, to have fun. Overall, to have a stress-free vacation, but with the Covid-10 just around the corner safety of the travelers is prioritized in these inbound travels. This is why it is important to book hotels that have SHA+ certifications before booking a flight to Phuket, for safety.
To those travelers who are interested in traveling to Phuket, here are some of the hotel recommendations with SHA+ certifications that you can choose from: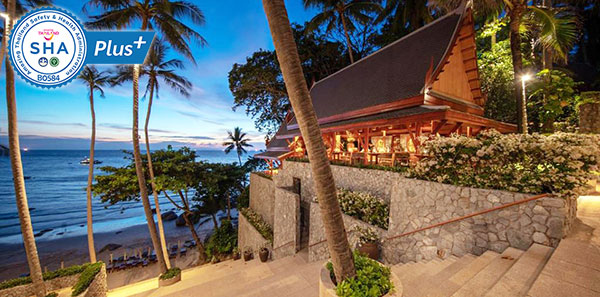 Location: Surin Beach
Rating: 9.4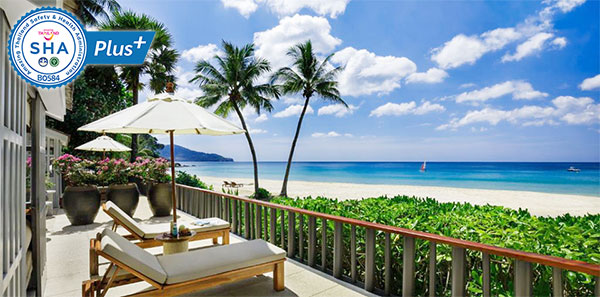 Location: Surin Beach
Rating: 9.3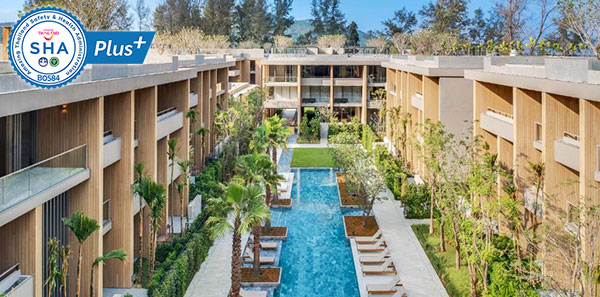 Location: Kamala Beach
Rating: 9.3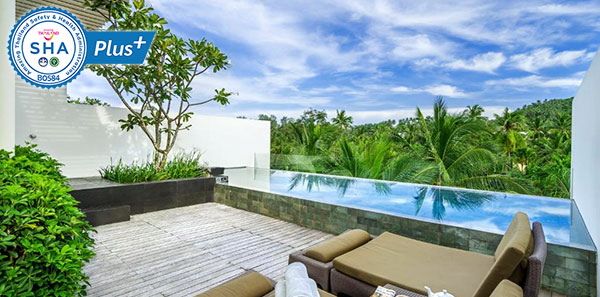 Location: Surin Beach
Rating: 9.2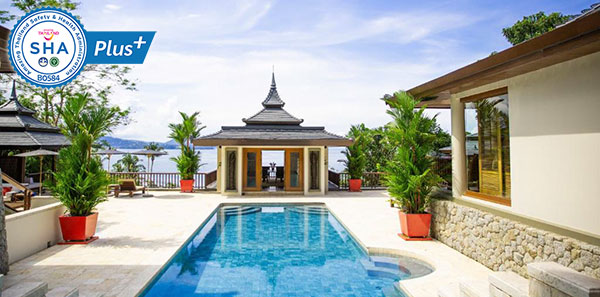 Location: Nai Thon Beach
Rating: 9.1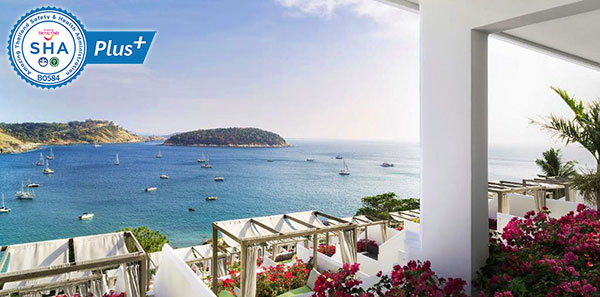 Location: Nai Harn Beach
Rating: 9.1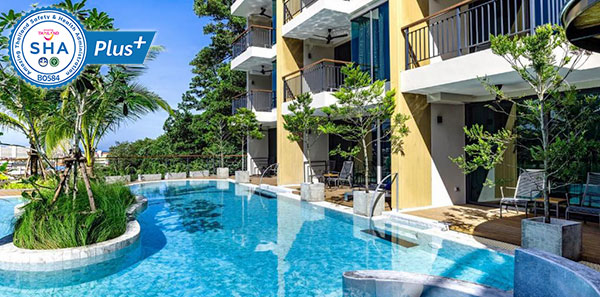 Location: Patong Beach
Rating: 10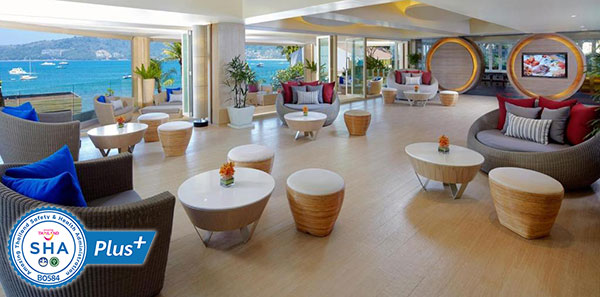 Location: Patong Beach
Rating: 9.0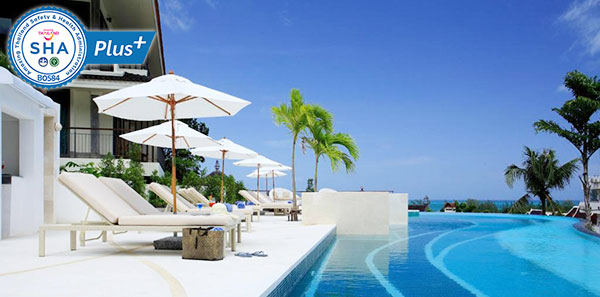 Location: Karon Beach
Rating: 9.0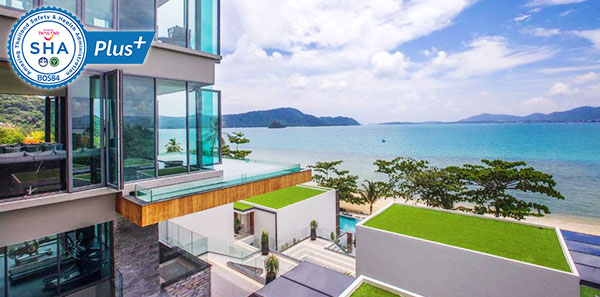 Location: Panwa Beach
Rating: 9.0
For more choices of hotels with SHA+ certifications, visit Koh Samui Guide.
Traveler's Stay
Travelers who have been fully vaccinated must stay in Phuket for 14 nights before being allowed to travel elsewhere in the country. Booking SHA+ hotels in Phuket for the entire time of the program is required to enter Thailand under the Phuket Sandbox program.
Travelers can stay on the island for less than 14 days if he/she is merely visiting Phuket and will depart on an international flight from Phuket Airport. In this situation, a SHA+ hotel reservation is still required for the duration of the stay.
Travelers must stay at one SHA+ hotel for at least the first seven nights, after which they are allowed to move to another SHA+ hotel for the remaining seven nights, it is not advisable to stay at more than 2 other SHA+ hotels in the stay. Travelers must depart from Phuket International Airport if they are staying on the island for less than 14 nights.