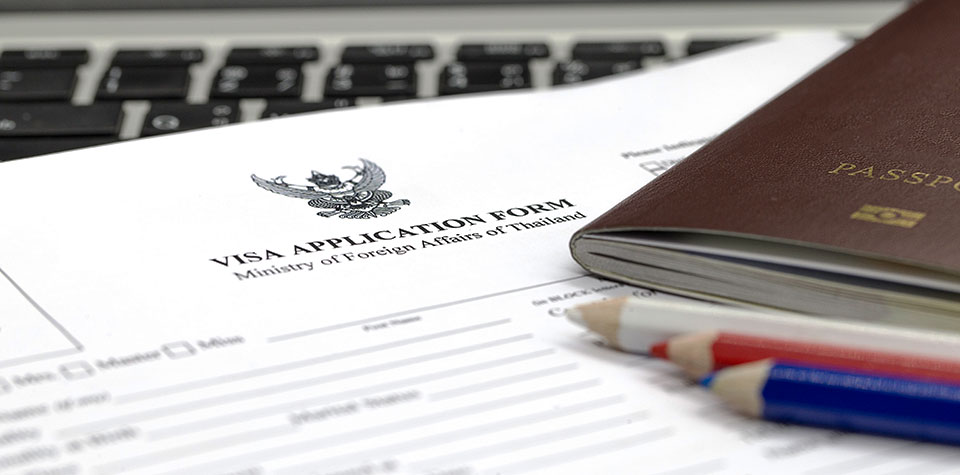 British travelers may now enter Thailand for tourism purposes. The following conditions are for applicants who wish to apply for a Tourist visa (Single Entry only):
This type of visa is issued to applicants who wish to enter Thailand for tourism only. For other purposes than tourism, visitors to Thailand must apply for Non-Immigrant visas.
Single Entry Tourist Visa will be valid for 3 months from the date of issue. You must enter Thailand within the validity of your visa.
The permitted length of stay is up to 60 days from the date of arrival in Thailand. Travelers should carefully check the immigration stamps in their passports regarding the exact length of stay to ensure that they do not overstay their visas.
The extension is possible for another 30 days, with a maximum period of stay of 90 days, counting from the date of entry.
If the Tourist Visa holders breach the entry conditions (for example, if he/she engages in work-related activities), the stay permit will be revoked and he/she will be prohibited from entering Thailand in the future.
Visa applicants in the United Kingdom can apply for a single-entry tourist visa (single entry only for stay up to 60 days), the applicant must request a visa, at least 15 working days before the intended date of travel, by filling in the information and upload all required documents online at www.thaievisa.go.th.
Note: Currently, the multiple-entry tourist visa (6 months) is currently suspended and the Embassy is not allowed to issue it.
How to Apply for Thai Tourist Visa Online
Create an Account
Fill in the Application Form
Upload Supporting Documents
Book Appointment
Pay Visa Fee
Submit Documents at Embassy/Consulate
Wait for Visa to be Processed
Collect Visa at Embassy/Consulate
Required Documents for Visa Application
Actual passport with validity not less than 6 months and at least 2 blank pages. Applicants must fill in an online visa application with their given name and surname as appear in their passports.
Printout of visa application form submitted online, with barcode.
Travel booking confirmation/reservation, showing going from the UK to Thailand and leaving from Thailand. (The name of the applicant must be indicated clearly.)
Proof of accommodation in Thailand e.g. hotel booking, invitation letter from family or friend in Thailand. (All tourists are subject to 15-day quarantined at ASQ hotels at their own expenses.)
Financial evidence e.g. bank statements, proof of earnings, sponsorship letter to cover your trip to Thailand.
Confirmation of legal residence in the UK (if applicants are not nationals of this country) e.g. long-stay visa, residence permit, BRP card.
Copy of health insurance policy which covers COVID-19 related medical expenses in Thailand no less than 100,000 USD for the whole period of your stay in Thailand.
Note: All supporting documents that are not in English to Thai must be translated into English and the translation must be certified by the relevant embassy in London.
ASQ Hotel Reservation

COVID-19 Insurance
Medical insurance guaranteeing that the insurance company will cover a minimum of 100,000 USD (or equivalent in other currencies) of medical costs incurred by the applicant in Thailand, including medical costs in the event that the applicant contracts COVID-19 (The insurance must cover the entire duration of stay in Thailand), for the COVID 19 insurance, please check: https://www.siam-legal.com/axa-insurance
Get Your COVID Insurance for Travel to Thailand. CLICK HERE


After receiving a visa, the travelers may request the Certificate of Entry (COE) at https://coethailand.mfa.go.th
General Requirements for Entry to Thailand
Valid tourist visa.
Certificate of Entry or COE
COVID-19 test result with a laboratory result indicating that COVID -19 is not detected (COVID test must be by RT-PCR method), conducted and issued within 72 hours before departure.
Copy of insurance policy which covers COVID and no less than 100,000 USD please print the insurance certificate and all pages of the terms and conditions on the COVID coverage and medical benefits (some people were refused to board the flight because they could not show that their insurance meet this requirement)
Copy of confirmed ASQ hotel booking.
T8 Form
Declaration form (for Thailand)
Download the "ThailandPlus" Application
Please check the travel measures announced by the UK government before you plan your trip to Thailand and before you travel out of the UK, please check the advice of the UK government.
https://www.gov.uk/guidance/travel-advice-novel-coronavirus#travel-declaration-form
Siam Legal Visa and COE Application Assistance
Package 1: 395 USD (for UK and US only)
Unlimited Online Visa Consultation
Assistance in visa application (non-immigrant O visa and tourist visa)
Assistance in COE application
Assistance in booking an ASQ hotel
Assistance in booking insurance
Assistance in booking the flight
Package 2: 175 USD (for UK and US only)
Unlimited Online Visa Consultation
Extensive checklist of required documents
Assistance in visa application (non-immigrant O visa and tourist visa)
Assistance in COE application